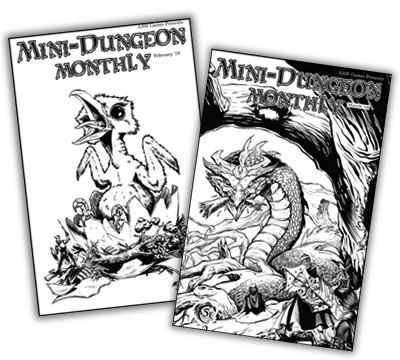 Introducing Mini-Dungeon Monthly, the new monthly RPG zine from AAW Games!
Inspired by classic titles like Judges Guild and Alarums & Excursions, inside each issue of Mini-Dungeon Monthly are five short adventures with brand new illustrations by Mates Laurentiu and cartography by Justin Andrew Mason. We offer a wide range of adventures for a variety of levels.
In issue one characters will climb into a roc's nest to fight hatchlings, try to survive in a crypt filled with vampires, confront a mendacious naga, stop a general from obtaining unfathomable power, and figure out what horrific otherworldly thing is making people go insane.
PDF issues are available individually or as part of a zine subscription. Designed as one-color print, each issue is available in print. Subscribers obtain access to purchase the print version of the zine at cost + shipping & handling from DriveThruRPG.com (roughly $2.50+S&H). We print in the USA and UK using OneBookShelf/Lightning Source.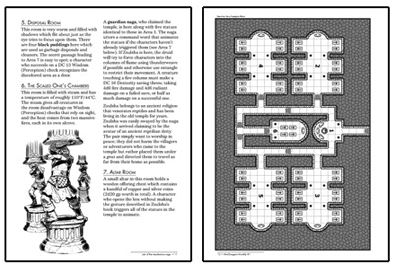 Additional Subscriber Benefits
All
subscribers
get bonus digital content with each Mini-Dungeon Monthly issue, including full-color, high-resolution Virtual Tabletop maps, digital monster and NPC tokens, and printable mini art posters.
Want even more adventure?
Click here to get the Mini-Dungeon Tome!
Over 130 exciting adventures in one book!